A corporate LMS developed based
on the world standard
LMS Moodle
Japan's only Moodle Certified Premium Partner,
e-learning Co., Ltd.,
provides the optimal training platform.
What is Moodle Workplace?
01.
Developed based on the world's
standard LMS Moodle
Moodle Workplace is an online training system developed based on Moodle, the world's standard LMS with a proven track record in education. Moodle Workplace is an online training system based on Moodle, the world's standard LMS with a proven track record in the field of education. Moodle Workplace is an enhanced version of Moodle that has all the functionality of Moodle, but with new features that meet the needs of organizations other than educational institutions, such as reflecting the organizational structure of a company.
The purpose of learning in human resource development is to develop human resources who can contribute to the realization of a company's management and business strategies, while at the same time helping to improve the skills and engagement of employees, who are the company's assets. By building an online training platform with Moodle Workplace, companies and individuals can create an environment where they can both grow and improve their performance and competitiveness.
In the past, Japanese organizations have tended to customize their systems, and there has been a tendency to believe that creating a unique system is a good thing. However, excessive customization to fit the unique circumstances of an organization not only increases costs, but also reduces the effectiveness of digitalization by half, and further weakens the organization. The significance of using a global standard system, not just an LMS, is not only to reduce costs, but also to improve international competitiveness by reviewing the organization's structure and way of being through organizational reforms that match the system.
The main reason why Moodle continues to be the world's preferred LMS is because it is the world standard LMS - a system that has been refined and standardized by universities and other organizations around the world. Moodle Workplace, an extension of Moodle, is an LMS that can play a major role in maximizing the power of your organization.
02.
Evolution with Moodle
Moodle Workplace was designed and developed based on Moodle, so as Moodle continues to evolve as OSS, so will Moodle Workplace.
As an OSS, Moodle is constantly evolving based on the knowledge of various developers, users, and partners in the global community, and because the source code is public, it is possible to respond quickly to malicious programs and security vulnerabilities. Moodle, in particular, is supported by a very active OSS community, so it is known for its reliability and stability. It is constantly being upgraded with new features, improvements, and bug fixes, including security patches, so you can use it with confidence.
In addition, Moodle's global community allows it to respond quickly to global trends and social needs, such as open badges, GDPR, and MFA (two-step verification). Moodle Workplace is constantly being upgraded and evolving along with Moodle.
03.
Cloud-based LMS
Because Moodle Workplace is a cloud-based LMS, there is no need for your organization to design, build, and maintain servers and networks (including troubleshooting, security, OS and software updates, maintenance, and inspections).
This frees the trainer or system administrator from the cumbersome task of maintaining the server, while at the same time reducing the cost of devices and systems, as well as operational costs. The service is provided by engineers with expert knowledge and high technical skills using AWS, one of the most robust cloud hosting platforms in the world, so you can trust us.
And because Moodle Workplace is web-based, it can be accessed from anywhere in the world. Instructors, students, and training administrators can easily access Moodle Workplace content from anywhere and at any time. Of course, the design is responsive, so it can be accessed on any device, including PCs, tablets, and smartphones.
And if you download the free Moodle App for iPhone or Android, you can save content and study offline.
The Moodle Workplace offers a number of approaches to providing a sustainable training environment, and we can suggest a variety of ways to use it to meet your needs.
LEARN MORE about Moodle App
04.
Scalability and flexibility
Moodle Workplace is flexible, scalable, and can be flexibly customized to meet individual needs.
It is compliant with a variety of international standards, including the Open Source Initiative, IMS LTI™, SCORM-ADL, and Open Badges, and is designed to be modular and interoperable, allowing for seamless integration with external applications, platforms, and systems.
You can also extend the functionality of Moodle with plugins and add-ons created by developers around the world, so the possibilities are endless.
Examples of services that can be linked:
On-campus systems and internal portals

In addition to SSO (LDAP, SAML, OpenID, etc.), it is also possible to link with your current internal systems and internal portals.

External applications and platforms, etc.
05.
Easy operation, multiple functions
Moodle Workplace retains the rich functionality of Moodle, but adds new features that non-educational organizations need, such as a way to manage courses and reflect the hierarchical structure of the organization.
By combining them in a flexible way, it is possible to customize it to meet your individual needs. In most cases, what has always been done in training can be done with the standard features of Moodle Workplace, without having to spend a lot of money and time developing a new system.
The simple interface, responsive design, and ease of use with which educational content can be delivered by clicking, dragging and dropping, as well as convenient features such as bulk user CSV uploads, are the reasons why Moodle and Moodle Workplace have been adopted by so many universities and organizations around the world.
Main standard functions
Teacher

Professors / Lecturers

Online Classes
Uploading class materials
Attendance management
Report/assignment management
Report/assignment grading and evaluation
Conducting tests
Test quality analysis
Advice in group/individual forums
Feedback

Student

Students / participants

Access to class materials
Download class materials
Today's To-Do
Class attendance
Report/assignment submission
Test
Private files
Workshops
Interaction in group/individual forums
Questions
Questionnaire

Learning administrator

Student Affair-, Academic Affair-, Human Resources-Divisions, Training staff

Attendance management, Performance Management, Progress Management Report
Completion Certificate
Open Badges
GDPR
SSO
MFA (two-step authentication)

Additional features of Moodle Workplace

Assign organizational structure, position definitions, and training programs
Select the items you need in a custom report and send an email with an Excel or CSV attachment to the person responsible for management on a regular basis.
Create educational programs that combine multiple courses
Authenticate qualifications within the organization and reauthenticate after expiration
Competencies to define the required human resources
Tenancy feature to allow split-management across multiple organizations
Course history management and participant recruitment
Linkage with HR database such as personnel evaluation and job history
06.
Centralized management of all training
Moodle Workplace is an all-in-one training platform for face-to-face, hands-on, and online training, making it possible to centrally manage any training environment.
It is said that hybrid training will become the mainstream in the future, where training is conducted in a variety of formats to suit different purposes and situations. The problem is that each training format requires a different management method, which increases the complexity of the task. By using Moodle Workplace, which can also be integrated with your internal systems, you can switch from complex management to simple centralized management, which will improve the efficiency of work within your organization, reduce the time and cost of training staff, and help create an environment where you can focus on human resource development.
For participants, Moodle Workplace is a centralized platform for training information, making it easier for participants to access the information they need and creating a better training environment.
07.
Scales with the size of your organization
Moodle Workplace scales with the size of your organization, from a few to millions of users. And because it is a SaaS offering, if you change the number of users after you have signed up, you can simply change your plan and keep using it.
GDPR (General Data Protection Regulation) compliant, and with more than 120 multi-language interfaces such as Japanese/English/Chinese, Moodle can be used by global companies and international organizations with confidence.
08.
The only Moodle Certified
Premium Partner in Japan
The Moodle Workplace SaaS offering is only available to Moodle Premium Partners.
e-learning Co., Ltd. is the only Moodle Certified Premium Partner in Japan, officially recognized by Moodle HQ. With advanced technology and knowledge of Moodle, we provide you with the best training platform as the No. 1 Moodle company in the country with a proven track record of implementation. We also provide easy to understand video manuals and PDF textbooks created by Moodle professionals, so you don't have to worry about changing your staff.
We also work closely with Moodle HQ to ensure that our support system is always up to date, so implementation is not the end of the story, but the beginning, and we provide continuous support for the construction and operation of a better learning environment.
Flow of Implementation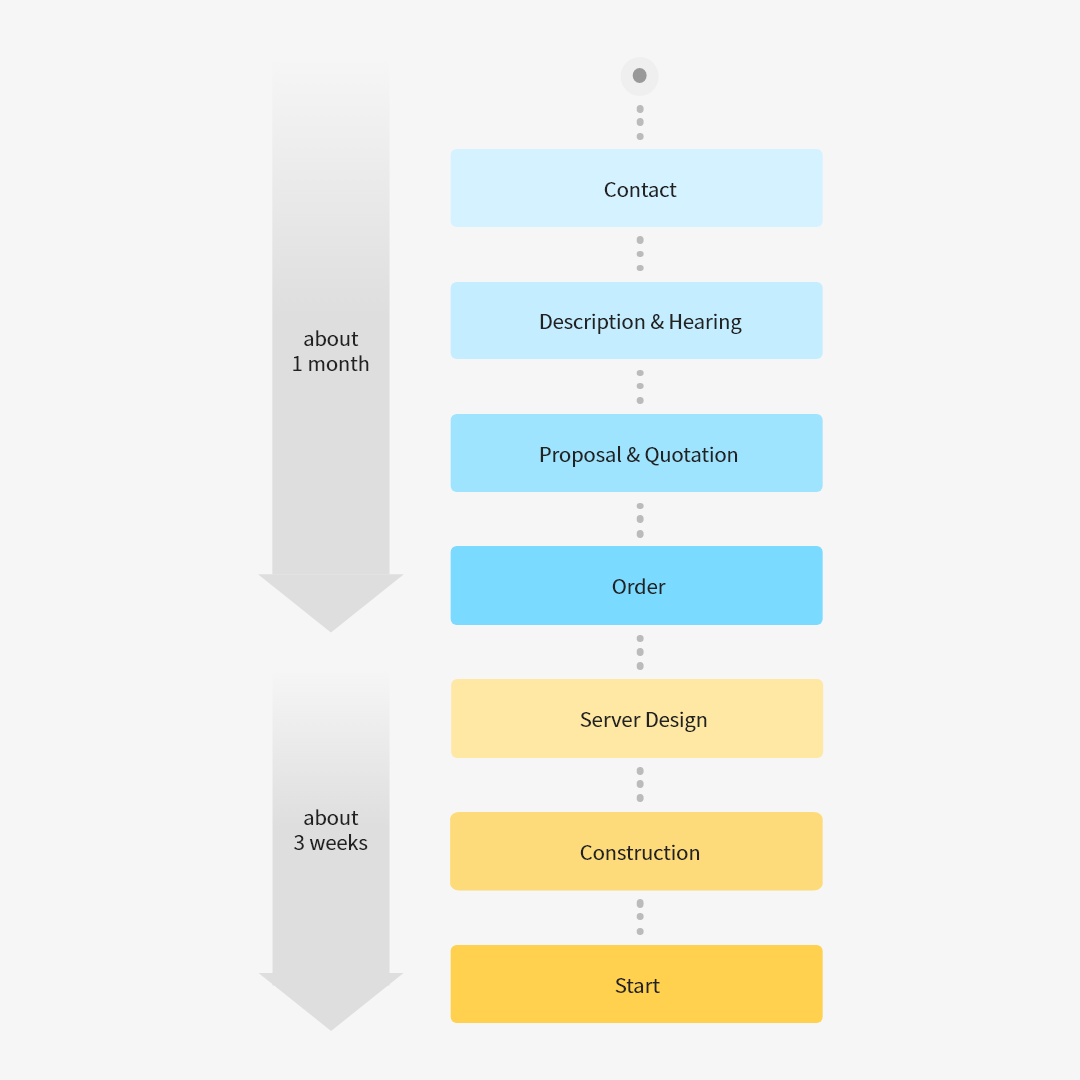 The standard time
for implementation is two months.
We will create an implementation schedule based on your situation.
Please feel free to contact us.
ORGANIZATION

Enterprise
The best of Moodle LMS with advanced features for workplace learning
With the promotion of work style reform and the impact of the new coronavirus, there has been a rapid increase in the number of companies introducing remote work and job-based employment systems. As a result, companies are facing the challenge of reforming their human resource training. In the past, when companies hired new graduates en masse, they generally held face-to-face training sessions with all new employees in one place. However, with the shift to mid-career hiring and year-round hiring, as well as the need to prevent the spread of the new coronavirus, it is impossible to train employees using the above model.
This is where online training is gaining attention. Online training makes it possible to provide education to the right people at the right time, even if they join at different times. In addition, since there is no need for the participants to physically travel, it can be used as a measure against coronavirus infection, and it can also reduce the transportation and accommodation costs and travel time that used to be incurred. However, simply conducting training online is not enough to achieve a sufficient educational effect. It is important to have a framework that is linked to the employment system, including management of each employee's level of understanding and progress, provision of training programs according to their affiliation and position, and performance evaluation.
Moodle Workplace, an online training system for companies, was developed based on the job-based employment system in Europe and the United States, based on experience in the field of education, and supports hybrid training that combines face-to-face training, practical training, and online training. Of course, the system can be built to reflect the structure of the actual company or organization, so it can be flexibly adapted to the needs of each department or office. By centrally managing all aspects of human resource training, it is possible to reduce internal costs and labor and achieve high training effectiveness.     
With just a click, drag and drop, you can create and deliver courses, online meetings, video feeds, PowerPoints, and other training content. You can manage attendance, tests, assignments, grading, course management, grades, certificates, and much more. To meet the needs of the times, it also supports multiple languages, MFA, and GDPR. It can be seamlessly integrated not only with your internal HR system, but also with various other platforms and systems.
As a Moodle Certified Premium Partner, we are the only company in Japan that is authorized to offer Moodle Workplace as SaaS. Please feel free to contact us if you have any questions about Moodle Workplace.

Cram schools, Classes, and Schools
Two-way interaction combined with face-to-face lectures to increase satisfaction
This is the era of online tutoring in cram schools and classes.
However, it is difficult to grasp the level of understanding and progress of students when simply delivering videos online. In addition, a one-way service that is limited to viewing only will not provide a significant learning effect, and as a result, it will be difficult to meet the needs of the students.
There is a mainstream belief that simply distributing videos will no longer be a viable business in the future. With Moodle Workplace, a cloud-based LMS, you can create an interactive environment with web conferencing, chat, forums, and other features.
In addition, by using the system in conjunction with face-to-face courses as well as online courses, it is possible to provide more detailed services to students and improve their satisfaction.
With a simple click and drag-and-drop operation, instructors and administrators can provide teaching materials, conduct flipped classes, manage attendance, provide assignments, grade and write comments interactively, distribute materials, create and grade tests (selective and descriptive), schedule interviews, and issue certificates and diplomas.
By combining and customizing the necessary functions from among the many useful features, it is possible to create an optimal environment for instructors and students.
In the past, we have mostly provided our products to cram schools, English conversation schools, and vocational schools for certification exams, but recently, we have been receiving a rapid increase in requests from yoga, Pilates, dance and other studios, and fitness schools.
In particular, we have been using it in various situations, such as booking appointments for interviews and linking with web conference systems.
The ability to use the system both online and offline, the ability to support various business formats, and the ability to prevent password leaks with MFA, thereby reducing security risks such as the loss of personal information, are also reasons why people choose our system.
Please feel free to contact us so that we can propose the best LMS implementation after hearing your needs.

other organizations with more than 1000 employees
We have a proven track record of implementation in a wide range of organizations, including government organizations, local governments, medical institutions, academic societies, and NPOs. Moodle is also used by many international organizations for its multilingual support and GDPR compliance.
MFA can also prevent password leaks and reduce security risks such as personal information loss. Please feel free to contact us for more information on how we can help you implement the best LMS for your organization, no matter how large or small.
Product Comparison
Comparison of Moodle LMS and Moodle Workplace features
Organised Learning
Moodle LMS
Moodle
Workplace
Organisational Structure
〇
Positions
〇
Competencies
〇
〇
Import/Export competency structure
〇
〇
Learning plans
〇
〇
Automated workflows
〇
Dynamic Rules based conditions and actions
〇
Advanced Multi-tenancy
Moodle LMS
Moodle
Workplace
Multi-tenancy
〇
Shared Space
〇
Shared Courses across tenants
〇
Shared Programs across tenants
〇
Shared Certifications across tenants
〇
Shared Organisational Structure across tenants
〇
Shared Dynamic Rules across tenants
〇
Shared Custom Reports across tenants
〇
Shared Certificate Templates across tenants
〇
Multi-tenant authentication
〇
Updating across tenants
〇
Enrollment Management
Moodle LMS
Moodle
Workplace
Manual enrollment
〇
〇
Automated enrollment
〇
Courses self-enrollment
〇
〇
Cohort and group based enrollment
〇
〇
Competency based enrollment
〇
Fee based enrollment
〇
〇
Personalised Learning
Moodle LMS
Moodle
Workplace
Program Management
〇
Certifications and compliance tracking
〇
Re-certification management
〇
User Dashboard
〇
〇
Learning Progress
〇
〇
Cohort tailored notifications and tasks
〇
Alerts and notifications
〇
Mobile App
Moodle LMS
Moodle
Workplace
Branded App
〇
〇
Offline Learning
〇
〇
Pushed mobile notifications
〇
〇
Mobile use analytics
〇
〇
Manager dashboard
〇
Brand customisation per tenant
〇
Social Learning
Moodle LMS
Moodle
Workplace
Peer-to-peer messaging
〇
〇
Tutor-learner messaging and conversations
〇
〇
Group assignments
〇
〇
Group conversations
〇
〇
Emojis (Messaging)
〇
〇
Forums
〇
〇
Content Marketplace
Moodle LMS
Moodle
Workplace
Proprietary content
Integrate with any Content Source
Integrate with any Content Source
MoodleNet integration
〇
〇
Course Management
Moodle LMS
Moodle
Workplace
Authoring tool
〇
〇
Multiple course formats
〇
〇
Activity completion management
〇
〇
Course completion management
〇
〇
Bulk update activity completion settings
〇
〇
Easy course duplication
〇
〇
User Experience
Moodle LMS
Moodle
Workplace
Turnkey solution
〇
〇
Fully customisable solution
〇
〇
Brand theme customisation
〇
〇
Custom main menus
〇
〇
Brand customisation per tenant
〇
Evaluation, assessment and achievements
Moodle LMS
Moodle
Workplace
Opinion polls
〇
〇
Feedback questions
〇
〇
Quizzes and built-in assessment tools
〇
〇
Adanced quizzes
〇
〇
Secure quizzes with Safe Exam Browser
〇
〇
Certificates (program completion)
〇
〇
Badges, rewards or recognition
〇
〇
Competency completion based badge
〇
〇
Group Membership based badge
〇
〇
Gradebook and grading
〇
〇
Anonymous graders
〇
〇
Reporting
Moodle LMS
Moodle
Workplace
Advanced Custom report builder
〇
Learner drop out report and notification
〇
〇
Learner last login
〇
〇
Course reports
〇
〇
Admin reports
〇
〇
Report column aggregation
〇
Migration
Moodle LMS
Moodle
Workplace
Automatic conflict resolution
〇
Full site migration
〇
Tenants migration
〇
Courses and Course categories migration
〇
Programs and Certifications migration
〇
Certificates migrations
〇
Custom reports migration
〇
Dynamic rules migration
〇
Organisation structure migration
〇
Users migration
〇
Cohorts migration
〇
Migrations API
〇
Migrations via Command Line Interface (CLI)
〇
Ready for 3rd party exporting and importing
〇
Other
Moodle LMS
Moodle
Workplace
Network of local and global partners
〇
〇
Agnostic hosting
〇
〇
LTI enabled*
〇
〇
H5P integration and authoring
〇
〇
Open Badges v2.0
〇
〇
WCAG 2.1 AA accredited
〇
In progress